1. Photographer is the most important thing in your Pre Wedding Shoot!
Yes, some photographer charge less and some more but your decision should never be based on the Price factor. Generally, photographers who are skilled and experienced charge more. Finalizing a skilled and experienced photographer will not only save your time while getting the shoot done but would also meet your expectation. After all, you can't risk getting another shoot if one doesn't work out well. Apart from Photographer charges you'll have to bear Makeup artist cost, Hair Stylist Cost, Wardrobe cost, Travel Cost, Studio cost etc. for another shoot as well. Always check the past works of the photographers and take a feedback from their clients before finalizing!
2. Locations are Important!
Locations bring up the theme of the photos and thus are very important in the Pre Wedding Shoot. Since, your photographer and other professionals charge you on a per day basis; your priority should be to get as many locations done each day. Here comes the importance of Studios with multiple theme based sets, backdrops and props. You'll get the advantage of many themes at a single spot.
( We at Photo Rachna Studios have a wide range of Sets and Props. See here!)
3. Be punctual on the Photoshoot day!
Sometimes, your photographer would ask you to come early morning for capturing beautiful moments during sunrise. Some of the best images come during sunrise & sunset and your photographer may have some shoot concept to use them. If you don't come on time then at the end only you would be a loser. Punctuality is important for Photographers as well and here comes the importance of hiring a professional one.
4. Checkout Pre-Wedding poses a week prior to the shoot!
You should look up at Pre-Wedding pictures of different couples over the internet. It will help you to understand Pre-Wedding poses before your actual shoot. It will make you appear confident and would also save a lot of time on the shoot day.
5. Eat healthy and exercise at least a week before your shoot day!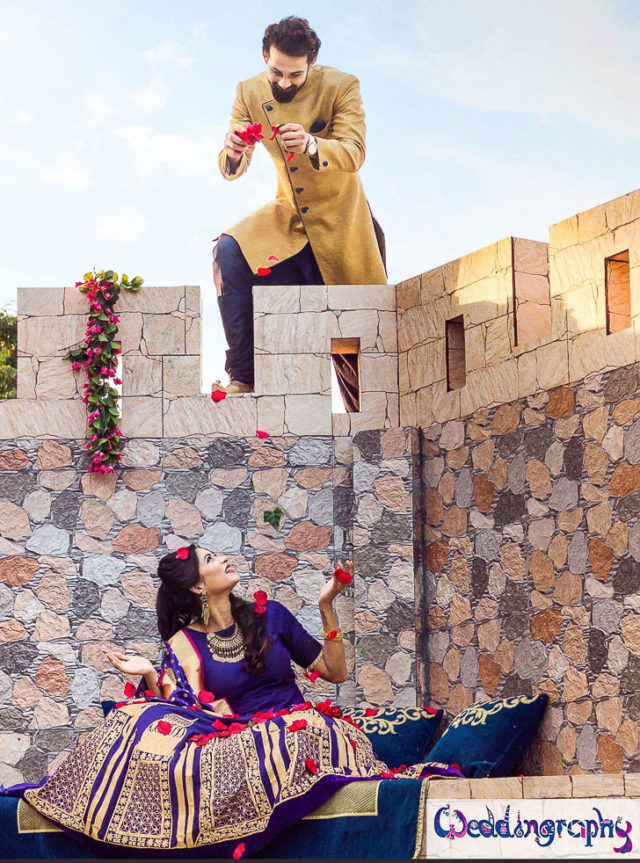 This will make you look fitter in the photos and also release of toxins will make you enthusiastic about the shoot. After all, you'll need a lot of energy on the shoot day. Keeping yourself hydrated will also help.
6. Take proper sleep before your shoot day
It will make you look fresh and beautiful in the pictures. The pre-wedding shoot is a very tiring exercise for the whole day. If you'll be sleep deprived, it will appear in your photos too and you'll also lose interest in getting clicked in a few hours only
7. Clothing for Pre-Wedding Shoot
Your attire is one of the most important elements of your Pre-Wedding shoot. It does justice to the location and the chemistry between the couple. You should discuss with your partner and photographer beforehand so that you are fully prepared for the shoot day. If your budget allows, you can also hire a stylist who'll guide you for what to wear on a particular location. Sometimes, renting apparels is a smart way to manage clothing for different locations.
We at ' Photo Rachna Studios' have a wide range of Locations, Sets & Props. Contact here!